Why Mish Mash?

Mish Mash is all about giving children an amazing musical start in life.
Picture a small friendly group in a lovely room full of African drums and other beautiful percussion, a relaxed teacher playing a great mix of music on guitar, drums and flutes whilst your little one joins in with the action, dancing, shaking, playing and doing heaps of hands on activities designed to captivate and engage children of different ages. Read on to find out what makes Mish Mash special…
*At Mish Mash, your little ones are free to be themselves: to move around, and express themselves

In the classes, little ones are free to move around and explore the environment, interact and make friends with other little ones… they don't have to sit still on your lap (unless they want to)! This relaxed, supportive environment is something that many parents have told me they have valued over the years of doing Mish Mash. Although babies often love the connection of being on a grown-up's lap, there will be many stages when that might not work for your little one… they are simply called to explore. MM honours that, because being themselves is one of the ways your child develops skills, confidence and a love of music. I have found that by creating inspiring activities, and a variety of ways for them to be involved in them, the children choose to be involved, because they want to be. A good class and a teacher who cares, inspires music making
*At Mish Mash, little ones are exposed to a variety of real live music that you'll want to share with your child.

The world is full of beautiful sounds. I want to support you in encouraging your children to explore and be inspired by the world, and there is a whole world of music out there. Children respond so much more to live music, (which is why I play guitar, flutes, steel pans and drums in the class) and because they get to see where the music is coming from,(a person,like them, not a CD player) they see that they can do it too. To me,Live music Vs CD is like the difference between a TV dinner and a proper meal! (nothing wrong with TV dinners… but I prefer the meal…especially if I don't have to cook!)
I have been a musician and music facilitator for many years, (playing guitar, African drums, and other instruments) as well as having a background as folk and jazz singer and  songwriter.  Sharing my passion for making live music is really central to Mish Mash.
*Mish Mash is a place to be part of the orchestra, part of the band!
Mish Mash creates a community of parents, carers and their little ones, sharing in a musical adventure together. The children experience being part of an orchestra of parents and children playing and singing together, accompanied by Ruth's guitar, drums and voice. Nursery rhymes are part of our heritage, (although when you've done the wheels on the bus over twenty times it's great to have some other fun and funky alternatives). Most children will be exposed to the very traditional songs at playgroups anyway, so Mish Mash allows them to expand their horizons and develop their musicality.
Little ones need to be involved…For babies and toddlers, listening is often a very active process which involves shaking along, dancing, drumming, holding a parachute… These are meaningful are ways of bringing children into the music, letting them feel it in their bodies and their hearts.
*Mish Mash is fun for parents, because you need to enjoy what you do with your children!
Sharing fun experiences with your child is one of the best parts of parenting. That will happen when it's fun for the both of you and you feel relaxed because: the class is captivating your child (and you don't have to), and  you know that I am relaxed with however your little is feeling at that moment.
*Mish Mash helps make music part of everyday life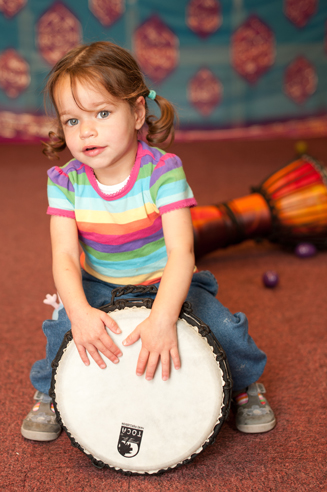 Parents have told me that the songs and games they learn at Mish Mash have become part of their everyday life with their children, enriching their lives, and adding a lovely dimension to car journeys, nappy changing, bedtimes and meal times. The songs they learn at Mish Mash have stayed with their children long after they started school.
To help you remember your favourite songs, there are CDs to play in the car and at home, to help you reconnect with the classes, and share the songs with grandparents, dads and siblings.
To help you see if Mish Mash is right for you, I asked parents to explain why they chose Mish Mash Music and here are some of their answers…
"More fun and informal"
"I love the unusual instruments (drums/metal bells) and the use of songs from other cultures."
"I was recommended but like it much more than (name of other class removed) as it is more relaxed, fun, welcoming and different"
"Hands on experience — real instruments"
You are "not a chain and therefore… more personal, which is a really great thing. Also. It's not the same generic nursery rhymes sang everywhere else"
"Different, real instruments, not "wheels on the bus" (not the same nursery rhymes used everywhere else), chilled, educational, funky, friendly."
"Unique, small group, great instruments, lovely songs."
"…change from the traditional nursery rhymes and variety of instruments."
"More personal and unique — good variation from session to session (unlike (name of group removed) which was repetitive.)"
If this sounds like what you are looking for, find out more, including prices, dates, times,  and heaps more, in our FIND A CLASS PAGE