Online classes at Mish Mash
Welcome to Mish Mash online!
I hope you and your little one are coping, and are well, in these challenging times.   I hope I have something to offer that will make the next period of time easier and more fun for your family.
Mish Mash has moved over to online classes and they've gone really well.  Parents have told me they love the feeling of being in a small friendly group, and doing something joyful with their little ones that allows them to forget about everything and just enjoy playing together.
"Hi Ruth, thank you so much for the class this morning. I have been home schooling for most of the week and this is one of very few activities so far that have kept all three of my children happy and engaged! (Even the eldest who said beforehand that he didn't want to join in) We all thoroughly enjoyed it!"
As a musician, singer and songwriter, I'm able to offer classes that give your little one an interactive live-music experience to enrich your day, and support your little one's creative development.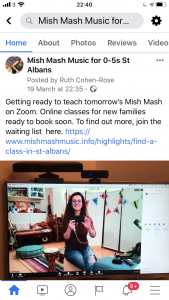 "Ruth! It made our week! Such a ray of sunshine in a difficult week. Thanks so much for putting the group on zoom together".
How is it different from watching something on Youtube?
Our online classes aim support you to keep a sense of being connected, and in the same room as the other parents and little ones.  It allows you to stay home, and feel like you are with us, at the same time.
There is something quite magical about sharing in the same activity, watching other children engaging with the music, in real time, and feeling that sense of community.
Because I'm a musician, you get to have a musician in their own lounge!  I'm modelling for the little ones, that playing instruments is fun – it's an invitation to their own creativity and I've seen how much they interact in their own homes.
Parents have told me how much they appreciate having half an hour to spend with your little one, focused just on them, whilst feeling the support of being in a group.
Parents are giving so much right now- this allows you a place to relax into being with your little one: I'm running the sessions, and offering the activities, which means that you are your little one both get to receive together in a space that  feels personal, real, and interactive.
We're all pretty stressed right now, so having some time that just all about play and joy is so valuable.  A break in your week!
 "Thank you so much for this morning. It was so lovely to hear all the songs. I'm so pleased you organised this. It has given me a little hope today."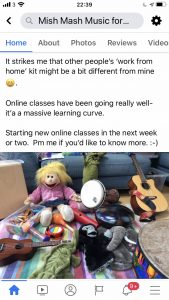 Classes are now open for booking 
I'm offering two different things:
Small personal classes
Small, personal live music classes for people who want to come to our St Albans classes, but which will run online while they have to, but will revert back to being in person, by Verulamium Park, when the Covid-19 restrictions ease.
These classes will run Monday, Wednesday and Friday mornings for little ones from age 6 months- 4 years (and whilst we are online, any siblings including those who are normally at school or nursery are welcome to come along too, for free)  We've had lots of school aged kids come along and have a wonderful time with their baby siblings.
The classes cost £8, but whilst we are online, I'm going to offer a refund of £1.50 per class which I'll transfer back to you monthly (because we don't know how long we're going to be meeting online).  You'll get the money back on the card you paid with.
NB. If you have money issues as a result of the Covid-19 situation, please contact me in confidence about a discount.
I offer a money back kid-happiness guarantee:
If you have'n't been to Mish Mash before, your first class is a trial session. That's because it's really important to me that parents know they love the classes if they are committing for a term.  So…If for any reason you don't enjoy the first class, you just let me know within 12 hours, and I can refund you any money you've paid.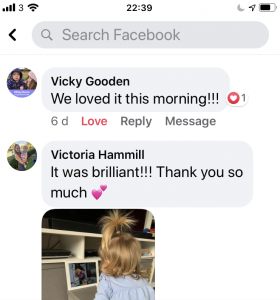 Class times:
Whilst we are online, a couple of times vary a little from the regular times.
Over 2s:
Monday 9.30 (will be 9.45 when in person) spaces
Weds 9.45 – spaces
Friday 9.45  (NOW FULLY BOOKED)
Under 2s:
Monday 10.35 spaces
Wednesday 10.45 (will be 10.35 when in person) spaces
Friday 10.45 (will be 10.35 when in person) spaces
ONLINE only CLASSES
All ages (6 months- year one at school plus siblings)   larger classes – online only, £5.50 a class paid termly… (includes kid happiness money back guarantee)
11.30am Mondays   
14.15 Wednesdays
These are great for people who aren't local, or are going to return to nursery/ school etc once we're allowed out again. 
(pay for a term, and once schools reopen, I will offer to refund you for any weeks remaining; it's possible I will keep going with online classes after schools reopen, if people want that, and you will have the option to continue)
Who do you book for?
Book for the little ones you plan to taking to your actual in person class,  even though you may well be bringing school or nursery aged children with you during this lockdown. Bring as many people as you like in your household..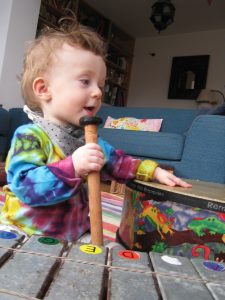 Term dates:
Mondays
20th April – 6th July
No class 25th May for half term
Wednesdays
22nd April- 8th July
Half term 27th May
Fridays
Friday 24th April- 10th July
No class 29th May
If you'd like to start sooner with classes, I have a short course that runs on Wednesday afternoons at 2.15pm that has started already and lasts until the end of the Easter holidays.  Book here from 28th March
"Ruth! It made our week! Such a ray of sunshine in a difficult week. Thanks so much for putting the group on zoom together".
 "Thank you so much for this morning. It was so lovely to hear all the songs. I'm so pleased you organised this. It has given me a little hope today."
The booking system is open from March 28th for you to book online.
Visit https://bookeo.com/mishmashmusic
If a class is fully booked, it won't show in the booking system. But do contact me, as there might be a way to help.
Please text me on 07761100793  if you have any questions, and I'll do my best to help
Very best wishes, Ruth


Ps. When you book your booking confirmation email gives you:
The link to your zoom call
instructions and a movie explaining how zoom works
a download of this term's music
and a link to our hand washing song
FAQ:
Q: Tell me more about your classes A: loads of info about our live music ethos on our Find a Class Page
Q: Do I need to pay for each of my kids separately? -A: No! Extra family members are free whilst we are online – bring everyone 🙂
Q: The class I want to book is full what do I do? A: You can book for an online class in the meantime (Monday 11.30 or Weds 2.15)  and move across at some later time.
Q: Are online classes cheaper  A: Yes!  £5.50 a class for our larger online only classes, and £6.50 for our smaller classes (that will return to Verulamium Park when we're allowed out again – they will then be £8)