Find a Class in St Albans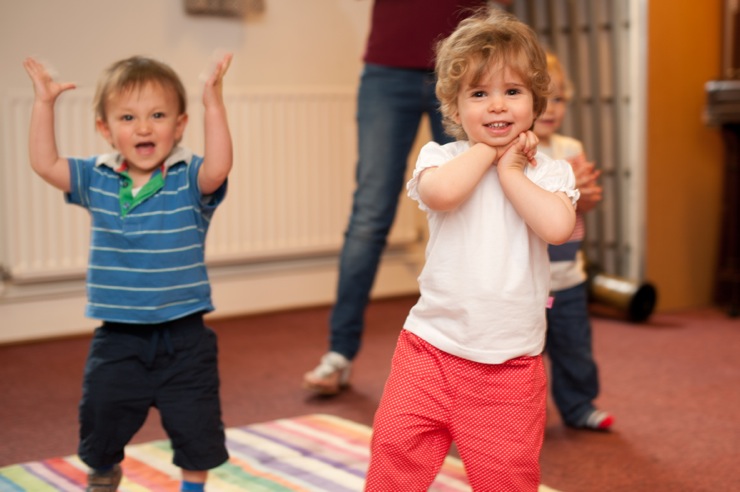 Classes run on Monday, Wednesdays and Friday mornings, right by the lovely Verulamium Park, AL3 4SL St Albans
A warm welcome to our nurturing, interactive music classes for babies and toddlers, where ALL the music is played live.  Every session is filled with new sensory experiences, different sounds, a variety of instruments to explore and original songs that allow your child to grow week by week, developing listening and language skills, creativity, confidence and a love of music.
STOP PRESS:  Classes now full for this current term. Classes start booking for September 2019 on June 23rd at 8am for those on the waiting list. To be able to book,  join the waiting list HERE And you'll get an email 29th June with a booking link letting you book any spaces not already taken by current Mish Mashers.   Joining the waiting list also means you receive a free download of one of the Mish Mash CDs, to keep you playing and singing until you start in the class. 
Mish Mash Music classes are for you and your little one if you want your little one to experience:
Live music
Wonderful songs played on guitar, ukulele, flutes, steel pans and African drums are at the heart of each class.  Eyes widen as little ones experience  first-hand, where music comes from,  and there is so much excitement as they join in with Ruth, and discover that they are musicians too.  Mish Mash Music helps children to understand the world around them and that they can make an impact and a contribution with a beat, a sound, a voice.
Personal attention
– small, nurturing classes for each age group focus on bringing out the best in each child. Ruth engages and connects with little ones through play, warmth, gentleness and fun, so that each child feels included, valued and celebrated. Years of experience mean that classes feel relaxed, friendly and inclusive, and above all, sensitive to your child's needs.
A hands on, interactive class
–  there are so many opportunities for little ones to create music using a wonderful and ever changing assortment of percussion: chimes, pots, guiros, drums, introduced to allow your little one to connect with each of the unique songs in a different way, developing rhythm, language skills, and an awareness of pitch, tempo and melody through each activity.
A rich, magical sensory class for babies and toddlers 
As well as a wonderful array of instruments and songs, music comes to life with sparkling parachutes to lie under, waving scarves, rainbow ribbons to dance with, playful puppets and saris to explore and use in imaginary worlds.
Body confidence
– fine and gross motor skills develop through playing instruments, dancing, marching, bouncing, swaying, jumping, and imaginative play.  From early months, where little ones begin to move in time to the music and tiny hands grip shakers,  to age 4 when little ones have grown to become experienced dancers and players, expressing themselves in ever more intricate ways.
Music to take with you after the class ends, and to last a lifetime
-Every term you take home a CD of special Mish Mash Music songs, all performed by Ruth, so you can carry on the fun at home, and share it with the rest of the family. Many Mish Mash families have found the CDs are invaluable on long car journeys or cold, rainy days and help create connection with older siblings and grandparents who love them too!  Parents describe how these songs have become the soundtrack to their child's early years and beyond.
The Mish Mash Story: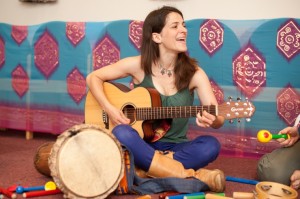 Friendly and full of fun, Mish Mash Music is run by Ruth, an experienced teacher and musician who has been running music classes and workshops in the local community and schools since 2003. Ruth can sing, march, wiggle, jump and dance whilst playing instruments, to the delight and amazement of babies and young children (and adults too). Most of the music is written and played by Ruth and her brilliant songs will become part of your family. You will never be able to walk in wellies without a rendition of Welly Boot Wash, eat a pot of jelly without breaking into Do My Ears Look Funny, or change a nappy without singing Smelly Welly Poo Poo.
What age are the classes suitable for?
Classes are suitable for 6 months – starting school.   Babies from as young as six months connect with the music through touch, movement, gross motor skills and a rich multisensory environment that brings the music to life. As they grow, more and more opportunities open up to moving, use their voices, exploring creating different sounds and becoming part of the music, with a rich assortment of instruments and props, designed to connect with their imagination, developing coordination, expression, creativity and their developing musicality.
What about siblings?
Because the classes are relaxed and inclusive, and little ones don't have to sit still  on your lap, baby siblings and twins are very welcome at Mish Mash.  Little siblings and are free of charge until they are 10 months old and then are included at a discounted price, so are twins.
Where and when are the classes?
Classes run Monday, Wednesday and Friday mornings right by Verulamium Park, St Albans, St Michael's Parish Centre, AL3 4SL This amazing park is complete with play area, ducks on the lake, splash park for the summer months, and the Waffle House or Inn On the Park for a lovely lunch. Parents often go for a play and meet up together, either before or after the class.
Classes run term time (dates below) and are booked termly.
STOP PRESS:  Classes now full for this current term. Classes start booking for September 2019 on June 23rd at 8am for those on the waiting list. To be able to book,  join the waiting list HERE And you'll get an email 29th June with a booking link letting you book any spaces not already taken by current Mish Mashers.   Joining the waiting list also means you receive a free download of one of the Mish Mash CDs, to keep you playing and singing until you start in the class.
Day and Time
Age
Venue
Mondays, Wednesdays and Fridays 10.35-11.05
4 months – approx. 2 years
St Michael's Parish Centre By Verulamium Park, St Albans (directions below)
Mondays, Wednesdays and Fridays  9.45-10.15


and also Mondays 11.20 as well as 9.45

2-4.5 years (and little siblings)
Autumn term 2019
Mondays
September 9th- December 9th
No classes 39th September and not class 28th October
This is a 12 week term
Wednesdays
September 11th- December 11th
No class 9th October and also 30th October
This is a 12 week term
Fridays
September 13th- December 13th
No classes  1st November for half term
This is a 13 week term
Summer Term
Mondays
April 29th – July 15th
No classes 27th May for bank holidays but there is a class 6th May even though it's a bank holiday
This is an 11 week term
Wednesdays
May 1st- July 17th
No class 29th May for half term
This is an 11 week term
Fridays
May 3rd – July 19th
No classes  31st May  for half term
This is an 11 week term

How much are classes?
Classes work out at £7.50 per class paid termly plus £6.50 for the CD of songs for the term. Siblings and twins are at discounted prices. There is no joining fee,  More here
Kid Happiness Guarantee
-Sometimes there are spaces to join a class part-way into a term and do a trial session and pay afterwards if the class is a good fit for you. However, often, classes are booked in advance: When spaces become available for the next term, you book for that term using our online booking system.
We really understand that you want to know you are definitely going to love the class if you're going to commit for a term, especially if you haven't been along to try out a class ahead of time, so we offer a Kid Happiness Guarantee:  If there is any problem at all, you just let Ruth know at the end of the first session and receive all your money back.
if there is anything you need to know,  please do contact me.
Testimonials
This is easily the best music group in St Albans. I took my daughter (child number 4 of 4) and wish I had discovered Ruth's group a long time ago. We have done SO MANY music groups over the years but this one is different. Not a franchise. I highly recommend this group.
Mish Mash is without doubt the best music class for babies and toddlers in St Albans. As a local music teacher, I was keen to find a class for my children which was interactive, dynamic, relaxed and fun. One where they could join in with instruments or sing along if they wanted to, or just sit back and soak up the music if they were having a quiet day. Mish Mash ticked all the boxes!  Ruth is a very kind, encouraging and energetic teacher, who gives children the chance to experience the joy of music-making from a very young age. I would highly recommend Mish Mash, particularly if you are thinking of starting your child on an instrument at a later stage, as it provides an excellent foundation in the fundamentals of music."
"Mish Mash is more than just a music class to keep us occupied in the week. Ruth's fabulous songs have become the soundtrack to our preschool years"
"Mish Mash is an hour long class that lasts all week, my 20-month old is forever walking round the house with a guitar or keyboard singing Ruth's songs."
'My daughter and I joined Mish Mash when she was just 5 months old. It was a breath of fresh air to find a space where different different cultural music was explored and organically written. Mish Mash has allow my daughter and I to grow in confidence using music to play, explore, sooth, connect and energise. Whenever music comes on at home she will always start to jig about! A wonderfully warm and friendly class for both little ones and their parents, to feel at home within. We always go home with our spirits lifted
Mish Mash Music is a brilliant mix of original songs in a friendly and welcoming environment.  Ruth is great at making sure every child is engaged and able to participate whatever their age or inclination.  Both our girls have loved it!  And the CD's are indispensable for long car journeys 
Mish Mash is the perfect class for my active but sometimes shy 3 year old: no pressure to join in and lots of opportunities to be up and moving. Every child is valued as an individual at the classes. Not only is Ruth a talented musician but she has a good understanding of children's developmental needs too. She teaches early musical skills in a fun, engaging and age-appropriate way. Mish Mash was the first class I felt confident going to when 'flying solo' with two kids. It was so good to be able to keep things as normal as possible for my eldest: he could still go to a fun class and have my full attention while his 6-day old sister slept soundly through some very enthusiastic drumming! It won't be long before she can join in too. 
Although only my youngest Simon goes to Mish Mash, the whole family benefits from the class. Simon and my daughters (aged 6 and 9) love the songs we have been singing. We listen to them every time we go somewhere by car. They are great songs and a nice alternative to those famous ones our kids have been learning. I love your voice and the way you are able to use special instruments and things of everyday use to make each song a beautiful story. Also the way you engage children is amazing. Thank you for such a wonderful class!
Fabulous music classes in such a welcoming setting! My little one enjoyed so much about these fun gatherings – the songs, the instruments, the silliness and the other little ones too! Ruth encourages the children in such a relaxed and gentle way, without any pressure on the kids or the mums! These are truly one of a kind classes.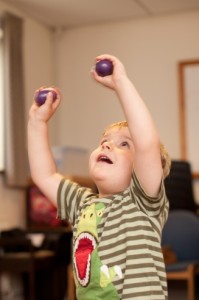 Directions to St Michael's Parish Centre
The centre is right next to the museum car park for Verulamium Park. If you were to drive into the car park, you would pass the Parish Centre on your right just after the traditional looking school. Mish Mash is on the first floor. To get there, go up the gentle slope which goes around the side of the building. You are welcome to bring your buggy in with you. Parking right by the centre is £1.70 in the car park for 3 hours (many parents make a morning/afternoon of it, go to the swings/ducks, and bring a packed lunch to the Inn on the Park, which their little ones eat whilst they have a cuppa). There is also 2 hours free parking on the road just outside the venue, but it isn't always available, and lots of free parking for a couple of hours by Westminster Lodge on the other side of the park (it's a twenty minute walk past the lake and through the park.). Some people also park by Waitrose at the top of the hill, where there is more free parking, near Prae Wood School, and walk down through the park.