Endings and what really matters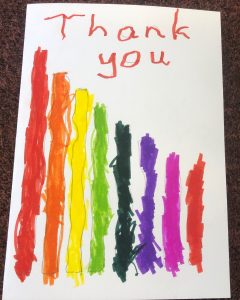 "I'm sorry" says a very tearful mum "I knew I'd cry"  – it was her son's last class at Mish Mash, he'd been coming since he was a tiny baby, and now he's heading off to school.  
I've watched him become a self possessed boy, able to relate beautifully with the other children, able to ask gracefully for what he wants, able to express himself playfully and I've watched his musicality shine brighter and brighter.
"You're crying because it matters" I say to her. "The time you spent together matters. These early years…"
"This class has been so important for him. It's been so much a part of all of our lives together" and she spoke about what making music together has grown in him.  And the play and joy they've shared.  "And Yes. It DOES matter" she said.
This time of year is full of endings of so many activities that parents have done with their children, before school, or nursery starts.  And the ending of what felt like the endless time that was on offer, of simply doing nothing, and making no plans together, because there was nowhere you and your child had to be.
Sometimes we keep going onto the next thing, without giving endings their true space.
It is hard to turn and face the precious things we love when we are about to let them go.
But turning and facing allows us to get what really matters to us, and in that, we meet a little more of the wonder and meaning of our own lives.
A few hours ago, I  dropped my 16 year old son off with a bunch of other teens, on their way to a camp overseas.   The moment after he'd left the car I was hit by the ache of letting him go, of him being old enough to leave home for a whole month.   An ache that my baby is not a baby anymore that he is stretching into his adult self, and I am stretching into all that that requires of me.
As I let myself stay with this, I feel how far we have both come.  And it hurts and feels awesome all at the same time.  And I would not miss this for the world. Despite the pain of it.
So here's to honouring the endings, and the riches that come into our lives for a short time only.
Here's to crying the tears that need to be cried, and here's to allowing ourselves to know what really matters.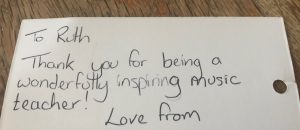 * Note and card from the mum and boy.
Mish Mash Music runs classes in St Albans for little ones 6 months- starting school. More info here