How Mish Mash makes life with your baby or preschooler more wonderful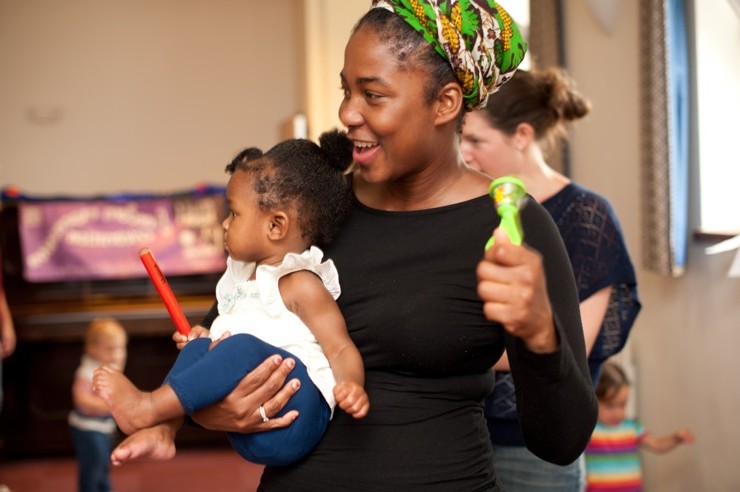 I created Mish Mash Music to make life with your baby or toddler even more beautiful, by bringing more play and music into your lives together.
Read on, or watch my 5 minute movie to see if this particular class, and my approach is right for you and your little one, and to hear about our Kid Happiness Money Back Guarantee.
So how does it work?
My approach involves three keys:
Make it irresistible to get babies and toddlers to join in, because it's SO much fun
Little ones from 6 months- starting school just want to make music if the situation is really fun and inviting.
I'm a songwriter and musician (as well as a mum and teacher) and over the 16 years of the classes, I've written hundreds of songs designed to inspire and excite little ones to make music. There are loads of different hands-on experiences and instruments for your little one to be expressive and  creative.  And to encourage little ones to explore even from then they are really really tiny.
Whilst the parents and babies play together, I'm playing guitar, flutes African drums, steel pans… a whole host of instruments, so music making just feels inspiring and natural.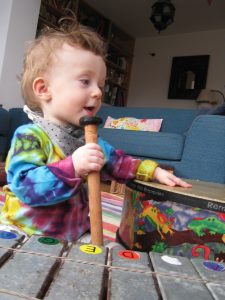 A  No Pressure Environment for your children and you!
The classes are size limited (which is why they often get fully booked so early). I get to know your little one personally.  So little ones know they matter and that there is no pressure:
They get to see that they are totally accepted however they are:  whether they are explorers, or want to cuddle on your lap- my first job is to make your child, and you, welcome. to me that's even more important than all the instruments I play.
I'm always grinning, making eye contact, using their names, and helping putting little ones at ease.   Whichever way they engage, they are in a rich musical environment which is fun for you both and which nurtures them.
What I find is that when music is combined with really accepting children, the children grow in confidence, get to know the musician in themselves, because they feel supported and nurtured.
And you get to relax, becuase your child can be themselves, however they are feeling.
You receive the magical Mish Mash CD
of all the songs we're doing this term so the music flows into your day to day family life.
This means that parents get to continue playing the songs at home – in the car, during dinner, at bath time and bed time… the songs become anthems to your family's life together. I've heard over and over how they are loved by parents, older siblings and grandparents.   Great for long car journeys and difficult moments in life.
It's amazing to be able to do something with your little one to make every day with them easier and more loving.     So many parents who tell me it made parenting so much more fun and connecting for them and how treasured the songs are long after their children have started school. People have told that tiny babies recognise their songs and are instantly happier and calmer.

And this leads to a lifetime of music and confidence for your child:
So many parents tell me how Mish Mash was the start of an amazing musical journey for their child, and how involved their children are now with playing musical instruments. they credit Mish Mash with supporting their child to be more confident with music and with expressing themselves and being creative and confident in general.
So Mish Mash not just a wonderful opportunity to play with your little one, it's the start of a lifetime of creativity and music making.
Kid Happiness Money Back Guarantee
I know you've not been to my classes before, and that not all children like all classes.
I offer parents a Kid Happiness Guarantee because I want parents to know that they are sure they like the class before committing for a term. Each child is different, and you need to know it's a good fit for you both.
The guarantee means that when you book a term of classes, if they aren't a good fit, you can let me know at the end of the first class, and I'll refund you ALL the money you've paid. Classes work out at £7.50 a class paid for termly (with any baby siblings under 10 months coming along free with older siblings) and run Monday, Wednesday and Friday mornings just by Verulamium Park.
Sign up to my waiting list or find out more
I normally have a waiting list, as my classes are often oversubscribed. If you sign up, you get told when the next class rebooks, and get the priority booking link.
Booking opens for September on  29th June 2019, for January 2020 on 30th November, and for the Summer term 2020 on 21st March
Go to https://www.mishmashmusic.info/highlights/find-a-class-in-st-albans/  to join the waiting list, or to book a class…. it contains, class dates and times, movies of the classes and almost everything else you could need.
Sometimes you can arrange ahead of time to come and do a free trial session. If you want to talk about this, or anything else, just text or call me on 07761100793
I look forward to meeting you, Ruth