Drumming Workshops in Education Settings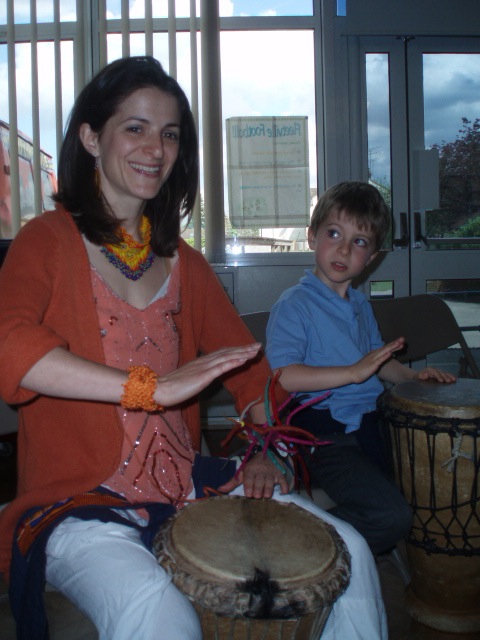 I offer drumming and hands on percussion sessions using African drums, and a heap of other percussion to get your classes grooving together, learning rhythms, and singing and playing as a group. I have enough drums for the whole class (and their teachers!!)
The Mish Mash drumming sessions were a great way to engage and stimulate an entire class. Ruth's energetic and fun class helped reinforce musical concepts of pulse and rhythm, whilst at the same time it was a great introduction to the joy of communal music making.
Mrs Bruce Year One Teacher, How Wood School, St Albans
My regular work in schools  is often for enrichment/ experience days. It generally involves spending a day, and working with many different classes from nursery up to year 6.  I am based in St Albans, but have worked in schools in London, Luton etc.
Sessions often include songs, stories and movement and African rhythms, and always having the children involved and included.
I can write sessions to fit with themes you are covering, or celebrations you are building up to. Recent ones have included: The magical garden, or "Africa" , "Uganda", animal stories…
Ruth's expertise and dedication to African drumming is so beneficial to children of all ages. Their confidence grows very quickly so  every child is able to join in at their own level. Her enthusiasm is quickly transferred to the children who, in turn get so much enjoyment from her drumming sessions.

I would highly recommend Ruth as a drumming specialist for any group, large or small, The children would gain so much from the experience.

Janey Airey, Music Coordinator Fleetville Infants School.
I have also run weekly drumming club sessions, and run shorter sessions if you are local to  St Albans.
As well as regular sessions, I also specialise in working with children who are struggling with literacy, as these children often miss out on access to learning an instrument, and drumming has been shown to support the auditory memory and phonemic awareness of children with a dyslexic-type pattern of learning. (See link here) My methods are always multi sensory and stress-free, celebrating the growth of skills and confidence, and appreciating the unique gifts of the children involved.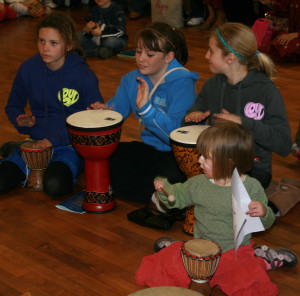 We found Ruth organised, creative and dynamic in her drumming work with the children. It was especially valuable for the girls to have such a  positive role model
SENCO, Wheatfields Junior School
INSET days
I have been approached to run training sessions (INSET days) for schools and nurseries about using music creatively in their settings.  Often, this is about such themes as empowering 'non musical' teachers to feel more confident and playful with music, using music to support learning across the curriculum,  using music to support language development in special schools, and using particular materials e.g found or natural materials in music making.
I have run day long courses, or shorter courses over a period of several weeks. It's about creating a supportive environment where teachers feels energised and inspired to try new things. It often involves observing teachers and providing them with strategies to help them get their best out of their children, and enjoy the experience more themselves.
Often, school music rooms are full of equipment but the teachers need support in figuring out how best to use them.
Sessions for teachers involve a mixture of participating in the role of the children, practising leading short exercises with other members of staff, and working with the children.
I have a huge range of songs, materials and activities which I have collected over more than 10 years teaching, and will arrive with songs and activities that are ready to use, or can easily be adapted, as well as looking at general principles of hands-on music making with children that  they can apply to new situations and areas of learning.
I am often invited in to do music workshops for the children, and training for the staff, as the workshops are a great chance to see both me, and the children, in 'action'. Its exciting for staff to see how the children respond.
I have a particular specialism in linking music, language and literacy, and find that percussion works fantastically for that.
Ruth came to run a music INSET for our staff team on a cold, winter, January morning. She was like a ray of sunshine – inspirational and full of energy!
The staff all commented on how the songs and instrument ideas were practical, easy to use and remember as well as easily adaptable to any topics the children were interested in.
We would happily recommend Ruth to other nursery settings! Sue M Pastures Way nursery

Ruth's passion for music is evident throughout her sessions. The one I experienced was to support students in their future teaching. It was fun for the participants and banished their fears of teaching music. The sessions are extremely practical, planned according to the age of the audience, and I am sure that children and adults of all ages will leave each session inspired to return for more musical activities.

Best wishes, Dianne Solly, University of Hertfordshire
To find out more about how I could help with staff development in your nursery or school, please contact me to discuss your needs.
Back to drumming workshops