Drumming Workshops Testimonials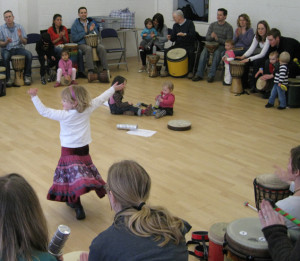 "Ruth is a breath of fresh air. She employs her positive energy,wonderful voice and innate sense of fun to teach and enthral her young audience (together with their parents), and she does all of that whilst drumming! The sessions she has run for us are so well prepared and delivered with such enthusiasm, that before you know it you're drumming along and singing at full volume. All of us at RBRS Cheder (Sunday School) can't wait for her next visit."
David Mitchell, Rabbi at Radlett and Bushey Reform Synagogue
"Dear Ruth, thank you for bringing the International Day at St Peter's School to life with your African drumming sessions. It was great to see kids of all ages joining in and learning their first African rhythm. It was great you were able to engage and organise the large crowd with ease and enthusiasm!" St Peters School PTA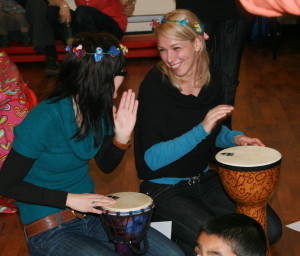 "Ruth's dynamic personality, coupled with her enthusiasm and physicality have significantly boosted the capabilities of the Sambuka project. Her engaging manner and experience at working with different ages and capabilities ensure a successful workshop every time"
Bob Garland, Mestre of Sambuka Samba band.
"We found Ruth organised, creative and dynamic in her drumming work with the children. It was especially valuable for the girls to have such a positive role model"
SENCO, Wheatfields Junior School
"The Mish Mash drumming sessions were a great way to engage and stimulate an entire class. Ruth's energetic and fun class helped reinforce musical concepts of pulse and rhythm, whilst at the same time it was a great introduction to the joy of communal music making. "
Year One Teacher, How Wood School, St Albans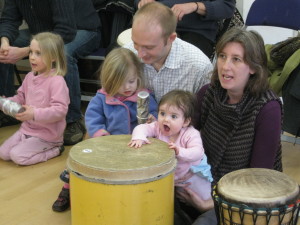 Ruth is a complete inspiration in the way she engages children with music, she has such energy and passion, we were captivated by her rhythm and style.  The children talked for weeks about the party Ruth and we all shared the thrill of achieving new things together. Thanks Ruth for our party with its own unique beat!"    Niki K
"Dear Ruth
Just a note to say a BIG thank you for coming along on Friday evening and playing your drums and encouraging everyone to have a go! I certainly enjoyed getting into the beat. I have had very encouraging feedback from those who came along and the music certainly helped make it a big success.
With all good wishes and thanks once again, Val"
Val Langford Regional Legacy Fundraising Manager/Oxfam Group member